Announcement of construction of a new 350-unit luxury apartment at 1441 Peachtree in Atlanta, Georgia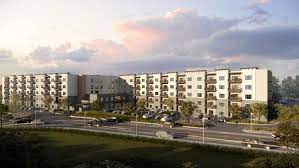 Construction has been announced for a brand new 350 unit luxury apartment complex at 1441 Peachtree Street in Atlanta.
The project was announced by Atlantic Residential and FIDES development. The project is the result of cooperation between the two companies and the involvement of Mitsui Fudosan America and Real estate in the capital.
Features and Amenities of New 350 Unit Luxury Apartment at 1441 Peachtree
Look for construction leads
The 350-unit luxury apartment at 1441 Peachtree homes will include floor designs with studios, one, two and three bedrooms. Many residences will have substantial balconies or patios. Interiors include high-end condo-style finishes and gourmet kitchens with modern amenities.
Also read: Partnership agreement signed for Theory Interlock Complex, a 671-bed student housing in Georgia
Additionally, there will be LED lighting sets, a state-of-the-art fitness center, chic wine bar and lounge. A private dining room and a dazzling swimming pool with a terrace will also be provided. Additionally, there will be an amazing rooftop bar and club with beautiful views of Ansley Park. Additionally, the lobby will feature two dining areas with floor-to-ceiling windows and high ceilings.
Residents of the new 350-unit luxury apartment at 1441 Peachtree will have easy access to several iconic attractions. These include "the most cultivated square mile in the southeast". Other attractions include the Alliance Theater, the High Museum of Art, and the Atlanta Symphony Orchestra.
Comment on the project
"The High Museum, designed by Richard Meier to the south, represents an icon of high art. It represents the artists without whom art would not be possible. This served as an inspiration for the architectural character of the building," said project architect Andres Rubio, director of Niles Bolton Associates in Atlanta.
"The developing composition is a conversation between the two ideas and generates a rhythmic facade of stacked grids, tones, solids, planes and voids."