Wilson Capital offers 80-story apartment tower in Austin, TX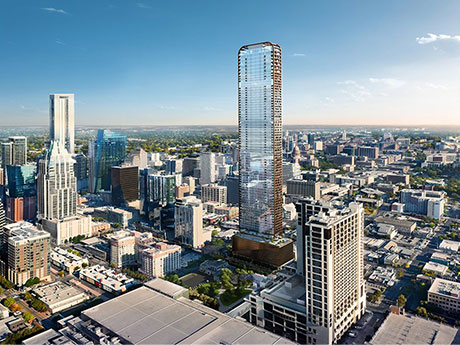 AUSTIN, TEXAS – Wilson Capital, an Austin-based real estate development company, has unveiled plans for Wilson Towers, an 80-story apartment building in Austin. Totaling 450 residential units and rising 1,035 feet, the development would become the tallest building in Texas upon completion.
The property is located at 410 E. Fifth St. in the heart of downtown Austin. It's less than a block from the Downtown MetroRail station, three blocks from the Congress Avenue shopping and dining district, and six blocks from the Texas State Capitol building. Construction is expected to start this summer.
According to the local real estate publication Towers, the project is a massive expansion of previously released redevelopment plans for the Avenue Lofts site, a 38-unit condominium building. Wilson Capital acquired the property through a brokered buyout of the condos earlier this year. The record-breaking redevelopment plan would see Wilson Tower rise 13 feet taller than the Waterline project a few blocks away, reports Towers.
The property will include residences ranging from studios to four-bedroom penthouses. The Wilson Tower will also offer four floors of resident amenities such as a bar and lounge, movie theater, pool deck and an entire floor dedicated to pet services such as a grooming center and a dog park.
Additionally, the ground floor of the property will offer 20,000 square feet of dining space, as well as resident valet parking.
Austin-based architectural firm HKS Inc. designed the Wilson Tower to feature a brise-soleil, or shade structure, that wraps around the glass exterior of the tower to protect the property from elements.
The development team also includes Britt Design Group for interiors, Nudge Design for landscapes and Kimley-Horn as civil engineer. Details of project financing are not available at this time, according to the developer.
Austin is a hub for all kinds of new construction as the city's population explodes. The city is the nation's second fastest growing metropolitan area, behind the San Francisco Bay Area, according to a 2022 report by UNC Kenan-Flagler Business School. The Austin Chamber of Commerce reports that the metro area's population grew 33%, from 1.7 million in 2010 to 2.3 million in 2020, and continues to grow.
—Kari Lloyd